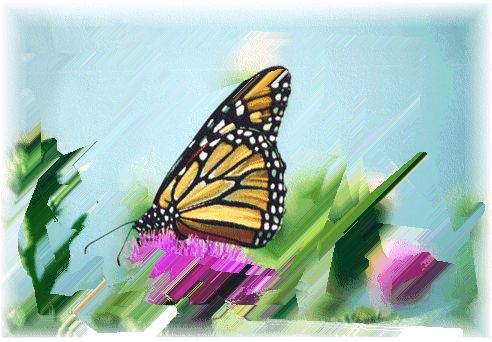 kmh 2004
This is my entry into the Round Robin Photo Challenge hosted by Carly at Ondinemonet and Karen at Musings from Mavarin. Below you will find a link to the journal now dedicated to the Round Robin and below my short essay is links to other participants........come join the fun and enjoy the talent of J-Landers.

http://journals.aol.com/ondinemonet/RoundRobinChallenges


Summer represents to me the greening of the world again.......after a dormant gray winter, life comes back with a vengeance. The dance of the butterflies return to the late afternoon sky and flowers explode with every color, the lushness of a dark green carpeted lawn and the canopy of green leafed trees to cool the hot summer sun. Summer represents surviving another long cold winter and a new chance at becoming a better me.
This is a photograph that I shot a while ago and I decided to play around with my photo editing software. It ended up having a painted effect but it's was just a lil smudging or streaking of this color into that color. I'm liking how it turned out so much I might be matting and framing this and adding it to my bedroom wall!

1.Betty...My Day My Interests
http://journals.aol.com/rap4143/MyDayMyInterests/

2. Karen...Musings from Mavarin
http://journals.aol.com/mavarin/MusingsfromMavarin

3. Carly...Ellipsis
http://journals.aol.com/ondinemonet/Ellipsis

4. Duane...sotto voce
http://journals.aol.com/fdtate714/sottovoce/

5. Alan...F-Stop
http://journals.aol.com/botdotdotdot/F-Stop

6. Steven...sometimes photoblog
http://journals.aol.com/sepintx/sometimesphotoblog

7. Amy...Substance; or lack of
http://journals.aol.com/babyshark28/substanceorlackof

8. Celeste...My Day And Thoughts
http://journals.aol.com/csandhollow/Mydayandthoughts/

9. Patrick...A Stop At Willoughby
http://astopatwilloughby.blogspot.com

10. Trish...A Journey To Peace
http://journals.aol.com/freeepeace/LivingroomSuperstar/

11. Mary...Alphawoman's Blog
http://journals.aol.com/alphawoman1/Alphawomansblog

12.Robbie...Robbies Ruminations
http://journals.aol.com/krobbie67/RobbiesRantsRaves

13. Sassy...Sassys Eye
http://journals.aol.com/sassydee50/SassysEYE

14.Marie...The Little Things
http://journals.aol.com/gotomaria/TheLittleThings/

15 Aunt Nub (Liz)
http://journals.aol.com/montaukny/AuntNubsEmptyHead

16.Derek...Picture of the Day
http://journals.aol.com/deveil/PictureoftheDay

17.Kat...From Every Angle
http://journals.aol.com/mskatdabrat/FromEveryAngle