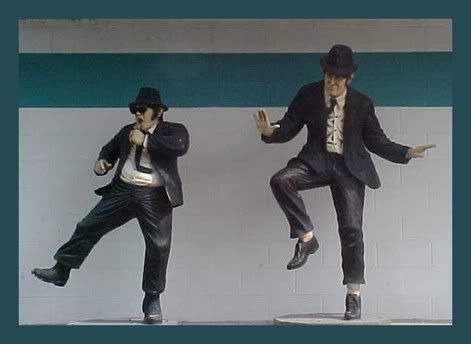 "Blues Brothers"
kmh
2005
Although "My kind of town" Chicago doesn't have mountains with incredible vista's or miles and miles of ocean lined beaches one thing is unequivocally true.......we have the best damned food in all of America.....Chicago's style... Pizza the best! Chicago style hot dog....the best! Chicago's Italian beef sandwiches.....the best! Let's not forget Taylor Street Italian Ice on a hot summer night.
It really is a small melting pot of people on it's own....we have whole neighborhoods filled with sights, cultures and foods from all over the world. We have the Magnificent Mile to shop on, several beaches along Lake Michigan and we are fast becoming a mecca for movie industry. We have Second City comedy for which many of the "not ready for prime time players" got their first big break.
Wanna spend the night on the town trying to recapture your lost youth........Rush Street and Division! I spent the better part of my 17-23 years dancing the night away in all the night spots. The neighborhood I grew up had a view of the Sears Tower that always beckoned me to come and play and play I did....so many things that happened in those days, stays in those days....I have a reputation to uphold.....kinda lol!
What I loved most about growing up in the shadow of the "City with big shoulders" was it was only an hour drive in any direction..... north for the farmlands and a legal drinking age of 18 (at that time) or a quick trip to the open fields of Indiana, or the picturesque towns along the east shore of Lake Michigan in the state of Michigan or an hour east to the quaint towns along the Iowa border.....It is a very centralized big city and the options were many with the open roads and a tank of gas!

To read other people's takes on this great town join John Scalzi at Scalzi's Place