I finally was able to sneak away this past weekend and run off to the ranch for a day. I would love to spend more time out there, but the elder extended family members that actually live on the ranch are so miserable to each other, it makes for an uncomfortable visit. I have Maggie in the house telling me how horrible Jimmy (her Jimmy not my Jimmy) is to her and then I get out in the barn and I have to listen to how horrible of a person Maggie is to Jimmy while I'm held captive in the barn. Talking to each of them whether together or sperate as to this is why most of the family stays away is falling on very old, very deaf ears. They are both set in the their ways.
I have a couple of friends my age that are married and carry on the same way. They don't think how uncomfortable and tiring it is to constantly be subjected to their snipes back and forth to one another. I find this kind of behavior so disrespectful. Jim and I (my Jim) hardly ever fight even though we sometimes have opposite opinions of many things, some times STRONG opinions, But we would never disrespect each other and carry on like that in public. Being around our friends that do put each other through the ringer in public. takes me back to that trapped feeling when I was a child. That awful feeling that I got while listening to my parents fight growing up. Who wants to feel that again right?
While I was at the ranch I made my excuses of really wanting to get out with the horses, my great escape from bickering going on back and forth between Maggie and Jimmy. On the ranch they have quarter horses, miniature horses and shetland ponies and the chickens. I tried to fire off a few rounds with the cameras, but either I didn't have the patience or I had unwilling photo subjects. So I just put down my camera and picked up the pooper scoopers! lol I was only somewhat pleased with one of my photos......chasing the chickens.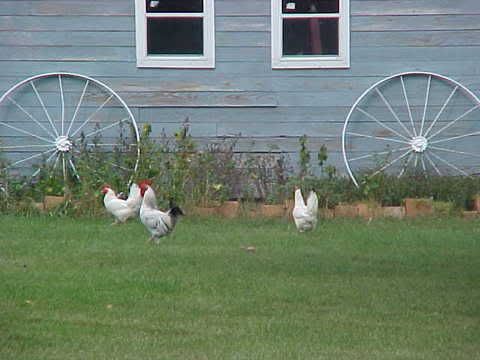 Someday I am going to find a horse that fits just right to me and then maybe I will ride more. I'm just to uncomfortable on the wider horses, being 5 foot nothing I don't have that long of a leg reach and I tend to cramp up quickly. Maybe I'm just getting old and rickety! lol! I had a better day camera wise with the yellow butterflies that were swarming around the outside of the barn then I did with the horses. The picture in the previous entry was the end result of chasing butterflies and giving up on chasing down the horses for baths! lol
Sunday was spent at a state park enjoying the dog training and fishing show. My girl friend who is an avid bow hunter was one of the guest speakers, so I came along for moral support. There were puppies for sale there, ( I wanted all of them of course!) They had a baby deer petting zoo, a settlers camp from the 1800s with children's games and animals hides for sale along with beef jerky spiced 1 million ways. Sunday was not a good camera day either and was only happy with one shot by the end of the day. This is one of the tents set up for the weekend in the settlersarea......baby this ain't no Hilton, so I ain't staying the night! lol