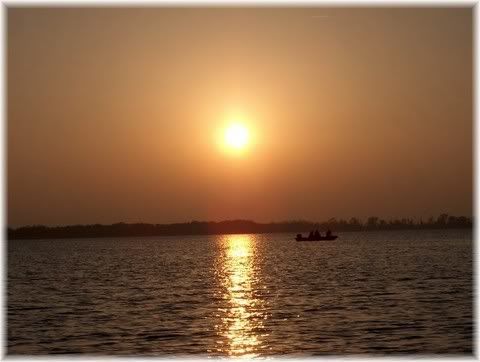 Your Monday Photo Shoot: Last Summer Moments
Master of the Blog.....John Scalzi's journal...By the way
Today is Labor Day, the "final" day of summer (summer ends officially on September 21st, with the autumn equinox, but come on, we all know this is it), so let's commemorate it in picture:
Your Monday Photo Shoot: Get one last shot of summer fun.

This is summers..... last blaze of glory......beautiful golden sunsets will soon be replaced by the gray that permeates the skies of winter and the only time spent on the lake will be under layers and layers of warm clothing to catch the fish that eluded you all summer long. The wonderful smells of BBQ will be replaced by the smell of wood built to warm your hands and feet. Gone will be the cold beer on tap and tropical drinks with fruit and pretty little umbrellas, to be replaced with hot chocolate in a thermos with a touch of Peppermint schnapps for the adults.
The boats will all be pulled from the water and the slips will remain empty awaiting for the thaw of the following spring. We will all be given the briefest 'God' like experience of walking on water even if it's frozen 6 inches thick. The only true rays of sunshine will be from the children young and old, trying to find their balance on an ice skating blade. Each child unrecognizable under the many layers of warm and colorful clothing.
The conversations of the weather will be reversed from how hot it is to how cold it is, while we reflect times spent together under the endless summer sky....... then to fast forwarding our thinking of the next upcoming summer season, when life will consist of BBB's, sun tan lotion and lazy days on the water all over again.