Your Monday Photo Shoot: Sentimental Gifts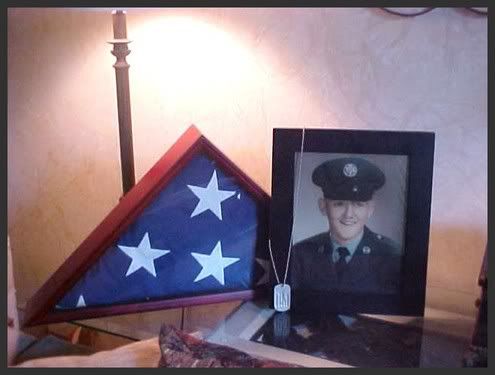 These are all that I have left of the Man I called Daddy....His burial flag which was given to me on my 41st Birthday by my Brother, this age was meaningful, I was the last of his babies to have lived longer than he was able too. The photo of him in is Air Force uniform when he first enlisted and his dog tags. He was not the greatest Father, he wasn't even close to Best Father, but he was my Daddy and I loved him so.
You never get over loosing your Father when you are a Daddy's girl, I lost him shortly after my 16th birthday. The pain may ease over the years but the void is felt a life time. I have many memories of his comings and goings as is with all military life, late night drives with my Mother to pick him up, snuggled in the back seat with my siblings in our pj's, seeing him walk up in his flight suit, so very handsome! Running around O'Hare Air Force base when I was a child, after his tour of duty was up and he went from active duty to reservist, since my childhood they have closed that base down. How many kids were able to run around from military plane to military plane, saluting all the other Military personal on base and pretending to be the best damn pilot the military had ever seen!
Most Sentimental...............You Betcha!