You have no idea how much I adore this man! We have been friends, bestest of friends since we were 10 years old! This is a man who knows everything there is to know about me and then some ;) He knows almost about me as much as Jim does, I don't hide anything...I have always been an open book.

I remember once when Oprah was looking for unusual friendships, on a whim I called and spoke to one of the Producers and began telling her the story of Kim and Jeff's excellent adventures....they wanted to book us for the show...I had to decline...for us to tell the world about our adventures as best friends was not the problem... for our Mothers to find out all the crazy things we did (and survived) would surely be the death of both of us! lol Even in our 40's we don't want the wrath only a Mother can bring down on a mischievous child who grew to be a mischievous adult! lol lol lol

He moved to L.A. back in the early 90's I missed him terribly! There is still a group of us since grade school who still keep in touch all these years. Back in the Spring of 2000, I went and spent 10 days with him in L.A. It was the first time that I was away from Jim and the kids, I thought my heart would break but as soon as I landed in L.A. I knew I would hate to return home...it was fantastic!

I went to a private Hollywood Party at the Beverly Hills Hotel, I went and played on the beaches of Malibu, I went up into the Hollywood hills as close to the 'Hollywood' sign as I possibly could get....I danced in the street one a warm California night when we weren't ready for the night to end even though it was 4 O'clock in the morning...definitely good times! Happy memory for me for sure!

I remember the day of the private party, my Jeff took me to a salon owned by the cattiest, cutest gay men...I can't remember their names but boy the look over I got was scorching! lol They whispered to each other back and forth then both walked up to me and said...... "Emergency Head to Toe makeover!" They said the first thing we are going to do is get rid of that "Texas Beauty Queen Hair!" lol lol lol I have to admit it was BIG! So feeling very much Like Dorthy in the Wizard of Oz scene when they make her over to see the Wizard I let them have their way with me as to speak! lol And below was the finished product! I didn't realize what a good job they did at cleaning me up...I thought I hated the hair...but now looking back...I looked freaking fantastic! lmaooooo They did my hair, my make up and my clothes for the night...I was no longer a Chicago girl I was a California girl! Wooooo hooooo!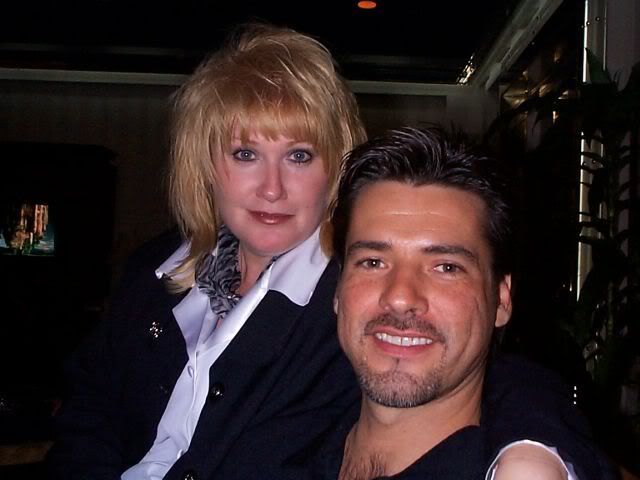 This also was the trip that me and a bunch of gay men took a road trip from L.A. to Vegas....you ain't had fun till you experience that, let me tell you! lmaooooo Yes, my friends my DH is a SAINT! ....but that trip is another story for another day....for sure! lol