I figure the best way to remember everything I wanted to share was to start from the beginning........

Jim and I decided to hire a limo to take us to the airport since we had to be there very early in the morning, We picked up Tony and Melissa on the way. The limo was a white stretch limo and it was nice to sit back and enjoy the ride before the coming of all the different players. When I booked the limo the person who answered the phone asked if I wanted a town car or a stretch and when I said "stretch" he asked if I was sure because there was only 4 of us...........this is when I mentioned that one of the four was a bride to be and they understood perfectly that meant lots of luggage......Tony had his Tuxedo to bring along with his Brothers.... so we needed the space! lol

The Airport and the coming of the families was blessedly uneventful..........The 1st Wife and I did all the small talk and the 2 DH's that we brought with us did the ignoring........I think Jim and the 1st Wife exchanged one complete sentence between the two of them and then polite avoidance......That made Melissa VERY happy! The airport scene will be classified as part of the many "Weird" moments I'm sure we all felt but kept to ourselves.

Another pleasant surprise is that we were all seated very far apart from each other. Melissa and Tony up front, Tony's family "Right Center" Jim and I " back left center" and 1st wife and her family back of the plane. This gave us all time to sit and breath the same air but not have to interact with one another. The other two couples that were friends of M and T were already on the Island.

Ahhhhh now the Island......incredibly beautiful, incredibly lush and green and incredibly colorful, nothing soothes me faster the colors of the Caribbean.........turquoise, coral, muted yellows and oranges...........just lovely. The one thing I wished I would of thought to do before taking off to Jamaica was learn more about their beliefs and customs. I'll do my homework a lil better next time I fly off to a new country........RESPECT is a huge part of their culture. So consider is a huge compliment when a Jamaican say's "Respect" to you and remember to answer with "Respect" back to them and look them in the eye when you say it.

Another thing that I'll remember about Jamaica was the very wealthy and the very poor just live a few steps away from each other on the Island. Across the road we weredriving on (the resort was 1.5 hours away from the Airport which was located in Montego Bay and we were staying in Negril.) on the Island side were some really beautiful Island stucco homes and then on the ocean side were these very small shanty's maybe the size of a one car garage, with corrugated steel roofs and walls held together with plywood and cardboard, they looked like little fishing shacks and if it wasn't for the laundry drying out on the line near them you would never think somebody lived there.......Some didn't have any indoor plumbing or electricity...Hurrican Ivan really did a number on this Island a few years ago and part were never rebuilt.
We could of taken a short plane ride (10 minutes) on a smaller plane to Negril, but I was looking forward to the 1.5 hours on the tiny little 8 passenger tour bus......Did I mention no one has the right of way in Jamaica??? lol It's a free for all!!!!!!! lol lol lol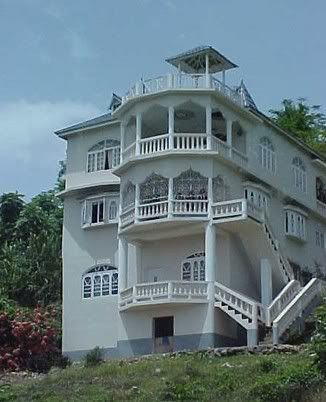 kmh 2006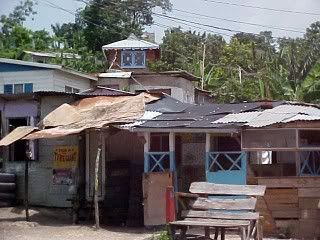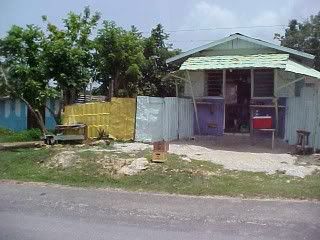 Here are a few shots of the scenery on the way to Negril.......I'll post a follow up entry with just photo's and a lil bit of info maybe later today and then devote tomorrows entry to an account of our first day on the Island and more photo's of the resort.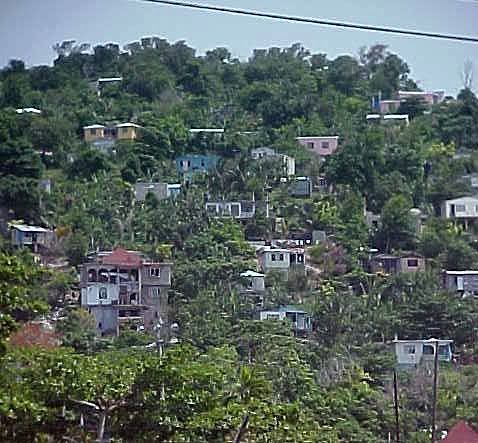 kmh July 2006