The next day began with Mimosa's on the beach and then it was off to breakfast.......is it me or is breakfast ALWAYS better at the oceans edge?? lol We spent most of the morning wandering around the resort and laying on the beach. After lunch we decided to take a walk to Beaches Sandy Cove that is the resort were Tony's family was staying at and we thought it was the perfect opportunity to get to know our daughter's new In-Laws.

To get to their resort you have to walk through a public beach area....it was about 800 feet wide and on this little stretch of beach is were the locals come to peddle their wares....you want t-shirts? they got em! You want wood carvings? They got em! You want to get your hair braided? They do it right there....I didn't think the Bo Derek look would go over well for the wedding album! lol Then the last thing they would offer you is Ganga (weed) or Hash.... They were not as pushy as the street vendors in Mexico....so one polite "No Thank You" took care of that.

We hooked up with Tony's parents and spent the afternoon sitting ocean side with them while Tony's Father tried to ply me full of shots the native drink down there....Appleton Jamaica RUM.....let's just say that SMOOTH is not one of it's qualities! lol The bartender took sympathy on me and made me a softer drink called BBC......Banana's, Baileys and coconut rum blended with ice..........YUMMMMMM!

A lot of beach and palm trees were lost during the Ivan Hurricane a few years back and for the remnants left behind wood carvers made artwork out of the tree stumps.......to be able to create something beautiful out of something destroyed by Mother Nature changed the whole effect of the devastation left behind. There were pirate carvings, Bob Marley carvings, eagles and this beautiful Jamaican mermaid........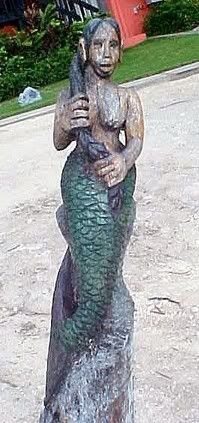 kmh 2006
The gardens located on the inland side of the resort had beautiful statues everywhere..........indoor, outdoor and up high on carved mahogany enclaves........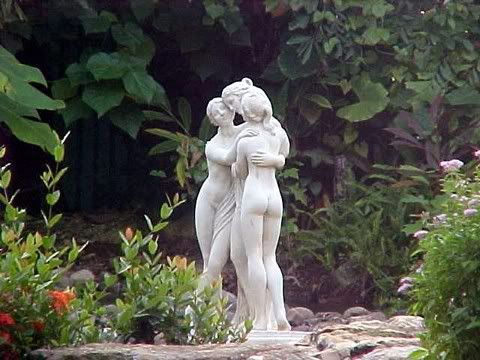 kmh 2006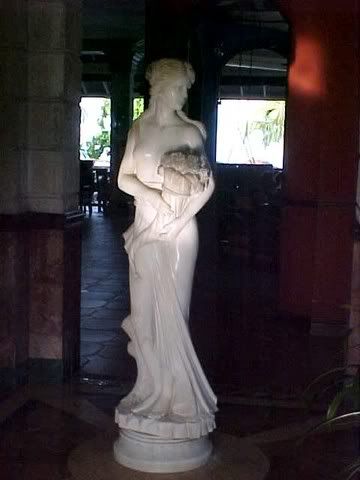 kmh 2006
This last shot is of the garden where we had Champagne and Hors d'Oeuvres after our daughter's wedding ceremony... complete with Koi Pond........ this was also the view from our second room with more to come on that later........yes we had to be moved!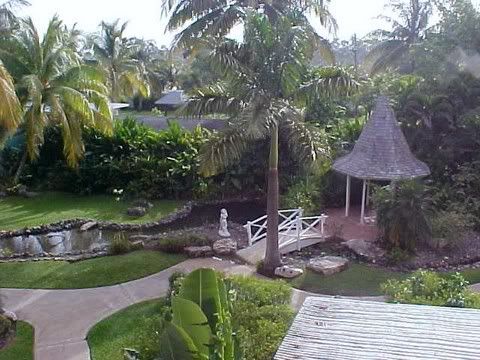 kmh 2006

This was also the day that my Daughter saw another wedding taking place on the beach and was dismayed over the amount of people encroaching on it. She had built her dream wedding up so big that at first she was disappointed when she arrived at the resort....her suite was not set up they way she thought it was, the beach was too public for a private wedding ceremony, the stress of everything caught up to her and since she anticipated so much it sent her into a mini downward spiral.......I knew she had to work through this on her own. Since I really didn't put much thought into the expectations that I was very pleased with just about everything. She decided to meet with the wedding coordinator later in the afternoon and switch everything.....she isn't anywhere near the "Bridezilla's" you see on that TV show but she wanted a more private ceremony than she thought the beach would allow. In the end it was a good thing she switched the ceremony from 2:00 p.m. to 10:00 a.m. because a really strong storm came ashore the next day which was the day of her wedding around the time the wedding would of started.

I'll post more later Ü