The mornings in Jamaica are very still, no breezes, hardly any movement out in the ocean and still very humid. Melissa and Tony's wedding has been rescheduled for 10:00 a.m. giving them a little more privacy on the beach since the late night revelers are still sleeping if off and the ones that are in Jamaica to relax are still having breakfast, it's about as quiet as the beach can get.

At the last minute the 1st wife (Birth mother of the Bride) decided to include me on the getting the Bride ready for her wedding rituals and for that consideration I am thankful. It was while Melissa was getting ready that the 1st wife finally referred to me as Melissa's other Mother.........took 20 years but I finally got the props for being a good Step Mother. The 1st wife and I took turns helping Melissa with her hair and her gown and it was while just her and I were alone in the bathroom that she looked at me in the mirror and whispered she wished she would of just eloped like her Father and I did. It was another precious gift to me that I was still her confidant. For a minute I spied the little girl who used to love to play dress up with all her pretty pretty princess clothes. She looked radiant even if her nerves were getting the best of her.

When the time came for her Daddy to give his little girl away I was bawling like a baby........all the Mom's were. The ceremony was lovely, the words were lovely, the tears streaming down my new son in laws face were lovely.........His face said everything I needed to hear....he adores her.
First glance of his Bride coming down the walkway to the aisle.....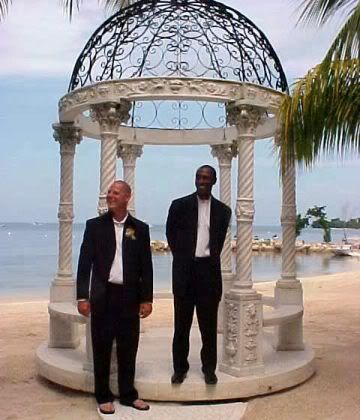 kmh 2006
Listening to the Preachers words on Marriage...........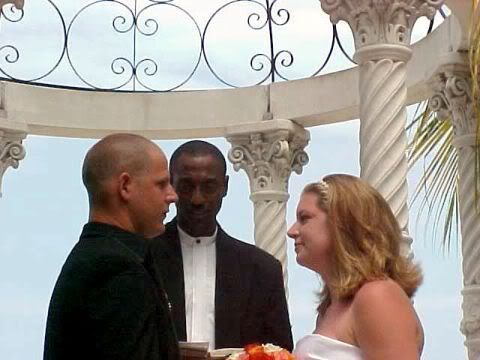 kmh 2006
The Wedding Cake................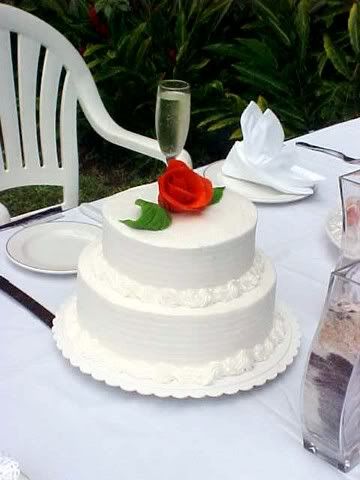 kmh 2006
I'll post more on the day later..........Ü