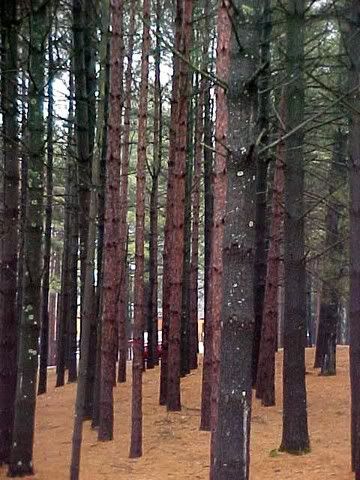 "Tall Pines"
2006

What a weekend! My family and I spent a 3 day weekend up in Wisconsin Dells along with friends and family. We spent the weekend up at Christmas Mountain Village and we had a ball! A lil skiing, a lil tubing, a lil snow boarding and a few injuries! lol

I kept trying to tell these guys you aren't getting any younger, but did they listen?? Nooooooo! One hit a tree (dislocated thumb) one hit a jump and landed to far forward on his ski, where they ended up piercing the snow and his body broke his fall, let's see shoulder injury and a possible cracked rib or two and these are the Dads! lol A couple of sore arms from the tow rope, and one 11 year old boy with a scraped face and a bruised ego. I decided to play it safe and played photographer the whole weekend! (I'm not happy with the shots I ended up with though, bad camera weekend) But now I wish I would of at least "tubed" while I was there. We soothed some sore muscles in the hot tub, I'm not sure if the Dad's Egos will ever recover! I don't think they realized outdoor play and middle age would hurt so bad! lol

We stayed in the Villa's, very new and very nice. I must remember "bubble control" when using the Jacuzzi in the master bedroom, oops! They were half way up the wall, before I even noticed......but it felt great! Thursday had been my Sister's 44th birthday and we decided to sing a rather, loud and off key with different starts and stops rendition of Happy Birthday during Saturday nights dinner.....when asked by the wait staff if she was embarrassed enough, she said not for herself, but for all of us! lol I don't think Happy Birthday was ever sang with such.......finesse?? lol lol lol!

My youngest daughter was Queen of the Karaoke on our last night there in the lounge, people were so impressed with her they started a tip jar just for her! It was a great mix of guests there and people could not get enough of her. The man that was running it, let her have her very own 'set' She sang, Let Er' Rip, Redneck woman, Crazy and ended it with "stand by your man" She was plied with kiddie cocktails that were bestowed on her by her new groupies, and they also started buying Mom and Dad thecocktails! Great fun was had by all. I of course, get all the credit, sorry Dad! But I'm the one who actually gave birth to her right?? lol lol

Eight adults, Eight kids and a lot of good memories! Can't wait to do it again next year!