Do we take so much for grant it here on this earth that we have become blind to all the beauty that surrounds us? Being in one place for too long has blinded me from it, I seem to only get excited when I can see something new to my senses. The under water world appeals to me because if is yet a place where I have had a chance to explore. When I see pictures and film from the true down under I am amazed at the vibrance of color and the shapes of the things that live freely there. I also am in awe of photos that are brought back to us from space.... another place I know I will never visit. Just look at this photo you will feel its awe too. (Thanks Courtenyay) I needed some inspiritation for today.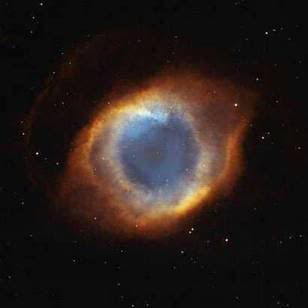 "The eye of God" courtesy of NASA Space Hubble Telescope"
I seem to be craving something and yet I have no idea what it is. I have found several quick fixes to tide me over, but I seem to need an experience fix at faster and faster intervals. Maybe it's because once again I have sabotaged myself by taking on more responsibilities that I want to commit to right now and I am feeling the effects of that. Being allowed the freedom of being a stay at home Mom for almost 14 years has spoiled me, I hate having to dance to anyone else's tunes and tempos. My true spirit, my free spirit.... lets me wander at will and I love that. If I want to spend hours with my camera... I can, If I want to spend hours in the kitchen on a cooking frenzy I can (although this doesn't happen anymore nearly as much as my family would like it too! lol) If I want to have a jammie day and lounge all day in my joe boxers and one of my Hubby's T-shirts I can do that too, Who knows! One thing is for sure the house stays messy longer than I would like but I attribute that to the stay at home syndrome too....."why do today what you can put off until tomorrow" OK...... I know that is not the way the saying goes but it works for me..........lol
I think another contributing factor to my on going funk is school is letting out soon and my days alone with my thoughts are dwindling. My summer will be filled with, "I'm Bored! There's nothing to do" and "Can we go somewhere today?" and the dreaded, "What's to eat? there's nothing to eat in this house!" Part of this is my fault, I keep my lil ones close to me, they are not allowed to roam free for hours and hours like most of their friends. I had two very frightening experiences when I was younger, one at 12 then another when I was 16 and those have almost paralyzed me with fear that some harm can come to my child, my baby so I am forever vigilant in keeping them safe. My older two don't seemed harmed by my parenting techniques, so I pretty much stick to form on the last two lil ones.
We as parents try to do a little better than our parents did, I was very lucky because my Mother made few mistakes, it is with her voice that I let guide me in so many of my parenting skills, My father was deficient in parenting skills but when he was in his "dad" mode he was a lot of fun to be around, so I have taken that with me in my children's lives. I try to have plenty of fun with them. In retrospect they only need us for a very short time in the span of their lives so I make sure I am always available or at least I try to......This girl has learned the hard why that I too need to spend time with me! lol
Until next time!