They say that after awhile people start to look like their pets, I'm wondering if that's true or not.....you tell me! lol lol lol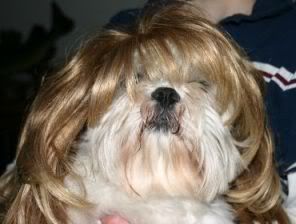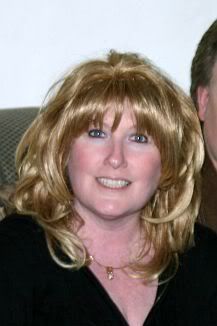 Boo wearing Goldylocks..........Me wearing Goldylocks! lol
Ok, enough of being silly....my ultra sound came back very good, they still wanted to review my mammogram, there is definitely a lump, the tech that did the mammogram said the results warranted the ultra sound.....GULP........And the tech that did the U/S was a student in training and asked if it was ok for her to do the U/S, then the Tech she is training under would come in and do the U/S too, I thought 4 eyes are better than two so go for it! They took the U/S to the Radiologist and because of my personal history with Breast Cancer and the fact that it was sooo aggressive she too wanted to do the U/S....talk about covering all the bases...6 eyes to check and double check....alleviated a lot of my stress.
When the testing was over I was told I could pick up a CD Rom of the U/S but that they wanted to further review the mammogram. That did raise a little red flag, but whatever it is....it is.... and I will once again do what ever I have to do to spend a lil more time with my Jim and my kids. My Surgeon Dr. Hottie is returning from his vacation today so I should be getting some news very soon. What gives me comfort was last year with the left breast, they told me right there in the mammography and ultra sound room that I had cancer, I didn't hear that this time so I'm not to worried. On the 14th I still have to have that test to check for cervical or uterin cancer due to the abnormal pap test result. While I was at the hospital for the mammo and U/S, I stopped over at the Cancer Hospital and talked to the Oncology nurses...they said very normal for that to happen even up to a year......that was music to my ears!
I was recently told about another J-Lander from the other side of the pond who has been given the Breast Cancer diagnosis and I know how much your love and support helped me keep my head above water so please stop on by and show her some love!
Thank's Bill for letting me know about Jeannette!