In a couple of hours I will once again have one of my breasts smashed under glass and once again be told to hold my breath and told not to move.....OK, with that amount of applied pressure who's breathing?? lol And as far as moving......I kinda can't really go anywhere with my breast being held in a vice like grip now can I??? Before my masectomy, I would of said something more along the lines "And just where do you expect me to go without my breast.......but I did enter an operating room just a few shorts months ago and even though I exited that operating room, me and that breast did go seperate ways.....no worries I have a brand new shiny one!
Now with there being a new lump in the 8:00 o'clock position on my right breast and my personal history with breast cancer I have to have all the tests ran again. Jim is going with me even though they won't let him go into the waiting room, mammogram or ultra sound room.......something about other women and other breasts.......Ummmm.....he's seen breasts before and I think he stopped giggling over the sight of them at the age of 9, but they still said "No Way" Me? I have no problem exposing them in the name of medicine, I'll do anything to make sure other women take their health a lil more serious. I was always one to think it can't happen to me and it did!
I remember when I first found out I was pregnant with my first daughter...I was on my own already by that time and I was OK with that......just because her Father(her Bio Dad, not my Jim) wasn't ready to become a parent and insisted I terminate the pregnancy....I was ready to become a Mom and I was having that baby so off you go!!!! Of course I was in denial of even being pregnant for months..I thought if I avoid the Doctor then no one will be able to confirm the pregnancy....I was young, stubborn and niave. So when I finally did go to the Doctor and he asked me why I thought I might be pregnant I said, "Ummmmmm...Cuz it's kicking me!!!!" ( I was almost 7 month pregnant but still wasn't showing yet) I was very lucky that my child was born healthy....I made sure I ate right and took prenatal vitamins...now at this age I know how risky my denial was.
So me and my Guy are off to yet another Doctor's visit, yet another test and a whole lot of waiting...but with him at my side I can handle anything!
Me and My Guy.......oh yeah and goldylocks! (my wig of course) lol lol lol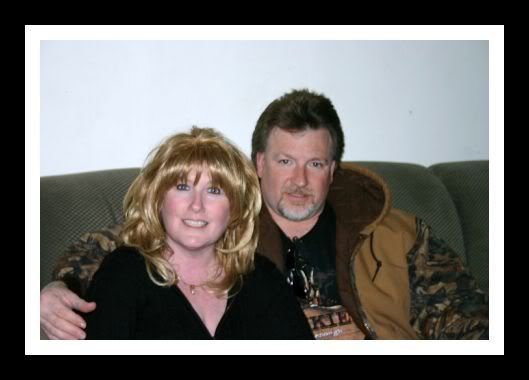 After 20 something years I still have such a crush on that man........ain't love grand!!!! Ü