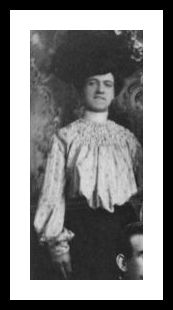 Ok! Now that I know what my Father would have looked like in drag!!!!! Oh! The Nighmares this is gonna give me! lolThis is a photograph of my Great Grandmother Cavanaugh and this is the very first time I have ever seen a picture of her.
When my Father was alive one of his favorite sayings was, "Why wasn't I born rich instead of soooooo good looking?" Well, you can't say he didn't have a great sense of humor!!! lol lol lol
I'm thinking it's a good thing I take after my Mother's side of the family!!!! :) My Grandma Annie the one I share "the tellings" from always said to me, "You might look just like your Mother but you are your Fathers Daughter!!!" And no truer words have been spoken!!!