Have someone take some pictures of the beautiful you, okay? ~Mary
#15 Comment from frankandmary - 6/4/07 10:23 AM

So this is for Mary! lol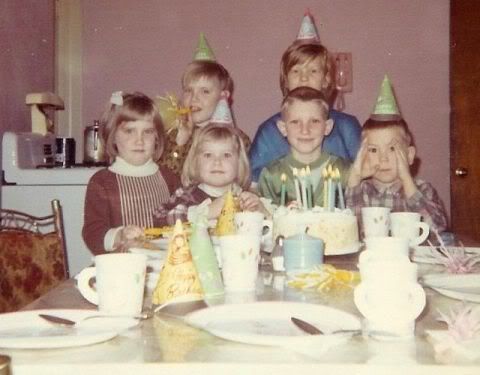 That is me at 4 years of age second on the left... my Sister Kelly is to my right with my Brother Michael right behind me....the other kids were from the block I spent part of my childhood on I think I lived there from my 4th year until I turned 10. I was blessed having the best babysitter a child could have...I call her M.O.M (My Other Mother) My Mom and Lilly have been best friends for over 40 years. Not only did she watch my Mom's 3 kids, she had 5 boys of her own and then had a baby girl, plus she had at least 1 or 2 other kids throughout the year.......talk about Sainthood! lol

The other lil boy on the far right is her youngest son Bobby, we were just under a year apart and we were the most mischievous, most catch us if you can kind of kids there were! (I'm sure that didn't surprise that many of you! lol)

We painted each other head to toe with garage paint (beige), we set of fireworks in their apartment, we used to put sweet tarts candies into warm soda bottles and watch them spray up to the kitchen ceiling...we were so BAD! He convinced me one time that those lil bottles of liquid "HEET" were perfume and lipstick.......can you say burn baby burn??? lol He also told me that if I let him put a whole bottle of hair tonic in my already long hair that by morning it would be down to me feet...it was already passed my butt.......both out Mothers spent half the night shampooing, drying, powdering my hair and repeating.....ended up with yet another pixie hair cut the next day! lol

Funny thing is Bobby never had children and I ended up with 4 of them! lol So I got all the paybacks and Bobby got away scott free! lol I was able to spend a couple of hours with my second family over the weekend and it was so good to walk down memory lane.... I smiled and laughed so much my cheeks were sore and life can't get any better than that!