Most of the time I run around bald......kinda used to it since this is the second time in less than 8 months that I am as hairless as a hairless cat! lol The funny thing is I get much more eye contact from people then I ever did before and when someone makes eye contact with me I always give out a greeting and people always respond back in kind.

It's gotten to the point I am very comfortable being bald.....there is nothing like the feeling of a warm summer breeze running through the 7 or 8 hairs you have left! lol lol lol But sometimes, just sometimes I don't want to be the bald chick, I want to just blend in and look as if I am not in the middle of a health crisis. That's when Goldylocks comes into play. I went to the hospital bald (as usual) and while waiting for them to call me into the chemo room to do a blood draw I was talking to an elderly woman about our families and about my cancer, she was very interested in mine and didn't mention why she was there...I enjoyed our conversation immensely, I tend to be waaay more open to strangers than people that I have known for years....A stranger can tell your secrets and you won't care.

While I was talking to her this striking older woman came over to me and said, "If I had your beautiful face I'd take my wig off right here and never wear it again!" I told her, "She was beautiful and she didn't need her wig either!" we both thanked each other and finally my name was called......off course they could get my port to take fluids but once again it refused to draw blood back....so it took 3 veins to get 3 vials of blood and of course all 3 veins were blown...such is life for a stingy blood giver! lol I swear I'm stopping at Happy Hour the next time before and do a lil blood thinning on my own....ya never know it just might work! ;)

So last night I had a date with Jim......dinner out with no kids...and I didn't want to be the bald chick last night.....so it turned out to be me, Jim and Goldylocks....my Son wanted to take a picture because he said I looked beautiful.......he can be very charming when he wants to be and then there are times.....lol! When I saw the picture I almost cried...it looked so much like the old healthy me....for a moment I didn't see a cancer patient....I saw a forty something woman without a care in the world...I hope I get to see more of her and less of the cancer patient.....a lot hinges on the news I get Thursday...still no intuition signs yet.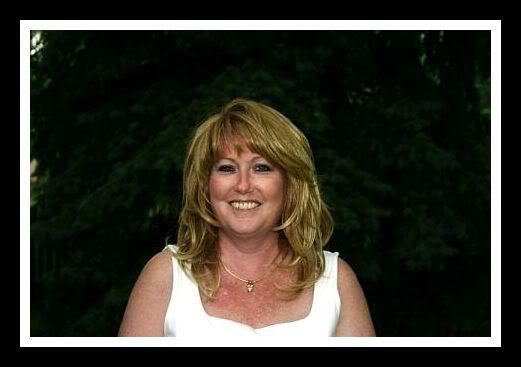 JWH 2007 (my Son the budding photographer)