First of All I would like to direct all of my readers over to a blog that was started by Jackie over at Hope Floats for the upcoming VIVI AWARDS. It is a place to nominate, vote for and find new blogs to enjoy and add to your forever growing list of blog updates to read! lol
Follow this link to read more about it ~~~>
Second of all I would like to thank Jackie from HOPE FLOATS for nominating my journal, and I would like to thank Sheila from NEEDLES AND HOOKS for nominating my blog for the MOST INSPIRATIONAL during my current battle with Breast Cancer. My goal is to share my experience up close and personal with anyone that might benefit from it. So thank you very much girlfriends!
Now for those that are squeamish at heart please click out of my blog for I am about to update my progress with reconstructive surgery after Mastectomy via new pictures.
Yesterday was a calendar month (August 16 - September 16) for my surgery and I wanted to share updated photo's to document my recovery. Like I blogged earlier about Dr. Hollywood who peeled off my scabs to promote new healing on my newly reconstructed breast. One of my Girlfriends recently confided in me how jealous she was that my tummy tuck removed my post childbirth stretch marks.....I had to laugh for the fact that I still have a few stretch marks left.........they have just been relocated to the center of my new breast as seen in the photo below. With the placement of the new nipple and tattooed areola after my final chemo treatment that should help cammoflauge the visable stretch marks on my new boob! lol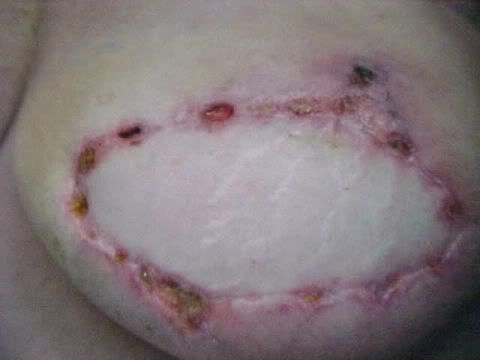 Now on to the tummy.....the line looks deceiving in the photo it is very thin (like eyelash thin in some parts to pencil line thin in others) It should be hardly visable after a few years of healing. So who knows...maybe my bikini days aren't completely over as I once thought! OK! So maybe not a bikini anymore but I could get away with a midrift top now and then!!!! lol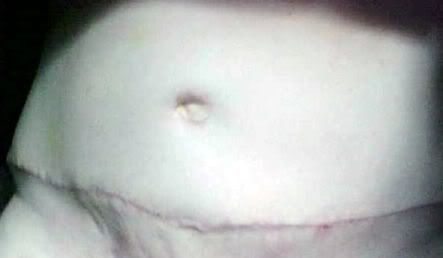 Life is good and I am blessed! Yes........ even with cancer my life is good and I am blessed!