If someone would of told me that someday I would be posting a boob shot of myself on the Internet I would of told them to "STEP AWAY FROM THE CRACK PIPE!!!!" But here I am, in the hopes that my journey with my newly diagnosed breast cancer (Yes, the Pathology report confirms it is breast cancer but they were still finishing up the report when my Dr. McDreamy called for a results.) So at this time I still do NOT know what kind of breast cancer I have, but will know for sure when I go see the Oncologist tomorrow at 12:00 p.m.
Dr. McDreamy also wants to see me right after the Oncologist tomorrow do to what my biopsy site looked like when I peeled off my ace bandage. So for those that are squeamish or don't care to see the biopsy site please click the red box on the top right of the journal. A good friend of J-Land has been my inspiration on Breast Cancer awareness by posting shots of herself after her mastectomy We all know and love her as Lahoma aka Mzgoochi ~~~> MzGoochi's journal link. Like I said, we are here to learn, teach and lean on one another and today I am one of the teachers. PLEASE HAVE YOUR MAMMOGRAMS EVERY YEAR AFTER 40 OR EARLIER IF IT ALREADY RUNS IN YOUR FAMILY!!!!!!
What once used to be an incredible TA TA! lol lol lol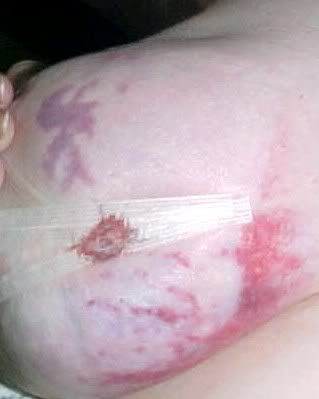 kmh 8/06
The darkest roundish thingy is the incision location, notice the indentation on top right of breast is the "Dimple" they refer to as dimpling when giving yourself you own breast examination. What for sign of this please!