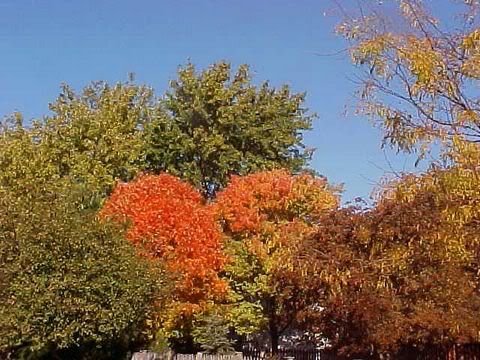 Yesterday, what a beautiful day! I was inspired to take my camera out. It had been laying dormant by the front door, silently wishing to be put to good use, but I hadn't felt inspired to do so in weeks. The trees are alive with ever changing colors and I was afraid I was going to let it pass without a photo tribute, but at last inspiration hit.

I started off my morning with a solo trip to the pumpkin patch, I didn't realize how I missed the annual trips I used to take with the kids until I walked among the rows of pumkins. They are now all past the pumpkin patch stages in their lives, so now I will have to wait and revisit with future grandchildren.
While at the pumpkin patch I heard the call of the taffy apple and washed it all down with a hot cup of apple cider, just as I was about the leave the cover of the enclosed food court a light sprinkle broke through the sometimes cloudy, sometimes sunny sky and I was graced with a late fall rainbow. What a gift that trip to the pumpkin patch revealed to me, I revisited my own childhood as I let the mixed flavors of the ripe caramel covered apple, sprinkled with nuts melt in my mouth, the aroma of the spiced apple cider reminded me of cold fall mornings from my youth, I revisited my minds eye with snapshots of my own children as they ran from pumpkin pile to pumpkin pile trying to find the perfect pumpkin to take home and carve, and then the full rainbow as the sunlight and rain hit my upturned face......it was a nice moment to be lost in. My day only got better with a stolen lunch with my husband Jim and a very late night cheering on my favorite baseball team from the warm confines of my bed and down comforter.....The Chicago White Sox!

My life is blessed and I am thankful!