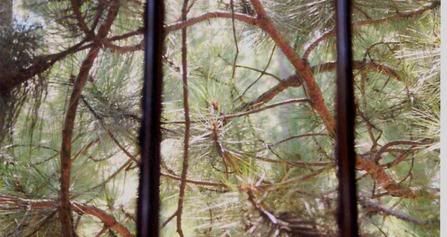 This will be my view in the upcoming week..........No, I am not going to be behind bars! That is the view I will be waking up to up in the northern woods of Wisconsin......No phones, no computer, no worries! Sounds lovely doesn't it? I will fall asleep every night to the call of the loons on the lake, I will wake to filtered sunshine through the tall pines that surrounds the cabin and I will see Eagles........ soar! But I will drop dead of total fear if I spy a.............BEAR! Yikessss!

This is my escape from life in the burbs of a big city and all the noise and the lights that go along with it. Nothing brings me peace faster than standing under the tall pines and gazing up at the unencumbered night sky..........the Northern Lights and the shooting stars are my evening entertainment along with the Hoot Owls, Bull Frogs and crickets....oh yeah and the occasional grunt of the giant mating snapping turtles near the boat dock.......now that......don't sound like love to me! lol lol lol

My mornings are spent sleeping in while DH and baby boy hit the lake running, they wake up around 5:00 a.m. since they swear daybreak is the only time to fish for the serious fisherman! They usually return around 8:00 a.m. looking for breakfast......then it's lazy days at the private beach, visiting with other vacationers that consider this a lil slice of heaven too! My Husband has been fishing on this lake since he was 4 years old........I do believe it is his "Happy Place" on this big blue wonderful sphere we spin around and around on!

Early evenings are Jim and my time out on the lake.......well actually my time fishing......he has to spend the whole time either baiting, or unhooking my fish or unraveling my fishing line and counting the number of lures I loose every year.......oh yes Paradise! lol I remember what fun we had (not!) one time when it was getting very dark, he didn't bring along fishing lights (big no-no) and the engine wouldn't start.......that poor man had to row in the dark all the way across two lakes.....listening to the loons and me complaining......"I told you so" for at least an hour.........almost complete silence except for the "EEEaaaaahhhh" "EEEaaaaahhhh" of the squeaky oars.....and my unhappy thoughts spoken out loud......I'm surprised I didn't get pushed over board and "accidental drowning" typed in my C.O.D! (cause of death)

Life is good and I am thankful!