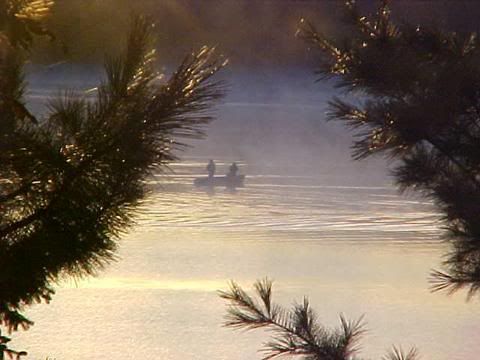 I'm back from the Northern Woods of Wisconsin! You know it must be one of your favorite places to be if coming home makes you sad......and I am going to miss early mornings sitting in the oversized adirondack chairs watching the sun slowly make its way up into the morning sky. I'll be posting more pictures over the next several days from our trip. We had beautiful weather up until the day before we left, there was severe weather in the area with 18 tornados that touched down through out the state, several small towns were hit and one town in particular, Staughton was destroyed. Hard to believe something that beautiful and serene can be destroyed in a few moments....... Mother Nature at her finest then at her worst.

The picture above was taken on our first morning up at the lake, it's tradition for Jim to wake just before sunrise and take my lil guy (Jimmy) out in the bay for some early morning fishing. My lil guy says it's the best time to fish....the lake is quiet...the fish are hungrier than he is and the action is plenty. The cabin sits half way up a small ridge with a beautiful view of the lake through the tall pines, this particular morning the lake water was warmer then the air so it gave off an early fog and this is the view from my window watching my two favorite men do what they love to do the most.........fish!!!!!! sitting side by side, just the two of them, and I get to do what I love best.....watching them enjoy the simple pleasure of just being together.

I don't mind not being a morning participant.....my time alone on the lake with Big Jim is always the evening, 3 glorious hours every night just Kim and Jim, a beautiful sunset, and a stringer full of fish.......there is something to say about the simple things, that is for sure!