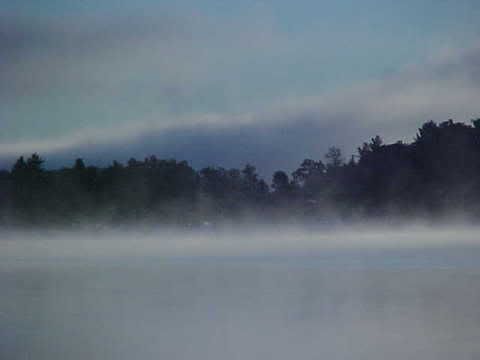 This is another morning shot of the bay, between the fog and the mist it made the lake and the surrounding woods take on a mystical appearance. I could hear the mated pair of Bald Eagles call out to each other that morning but I was unable to catch a glimpse let alone a picture of them.

A few years ago when my 19 year old daughter Amanda was just 14, Jim had dumped the minnows that didn't make it through the night very close to the large pier that holds several of the colorful adirondack chairs that I had mentioned in the previous entry. Amanda was sitting on this pier with her mind lost deep in the gameboy she was playing, tucked away warm in her hoodie (sweatshirt with a hood). Jim and I were just getting ready to do some morning fishing when we spied her sitting there with her hoodie on and the peek of the hood itself gave her a gnome like appearance, we were giggling to ourselves about that when we heard her give out a blood curdling scream! lol An Eagle was swooping down so low to feast on the minnows Jim had dumped by the pier that Amanda thought she was being 'Hitchcocked'! When the Eagles are gliding in there is no noise what so ever, but when they are trying to climb back up in the sky, just the shear power of the wings makes this wonderful, loud, swoooooosh of a sound!

Just the image that gets replayed in my mind when I go back to that time gives me the giggles all over again......the Eagle happily flying off with it's free breakfast and my gnome of a daughter taking off flying in her own style, squawking and scrambling up that ridge to the safety of the cabin..........Ahhhhh.........GOOD TIMES! lol lol lol

Life is good and I am thankful!