I'm so late with getting picture posted it's not even funny. I had mentioned in an earlier entry about hosting an annual Christmas Party with my husband for the Salmon Fishing club he belongs to here in the Great Lakes area and I promised to post a picture of the centerpieces I whipped up this year. We usually have over 100 people at these parties and I like the tables to look nice, so I make centerpieces every year and this one had me hot gluing myself to the dinning room table aka my craft table. lol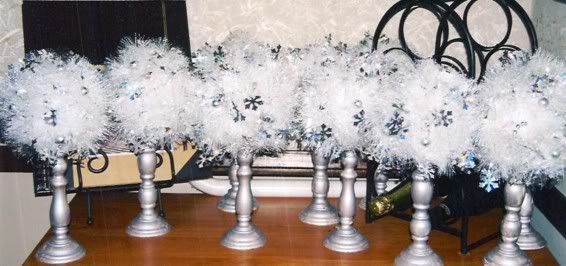 This was easy and very inexpensive to make and turned out gorgeous!

Wooden candles sticks with a larger lip and a spike for sticking in candles (found at the Dollar Store)
silver based wash paint
5 inch Styrofoam balls
Christmas Tree Garland (I bought the one that was iridescent in color (white) with snow specks on it and silver snowflakes attached)
hot glue and gun
a few branches of beads wired on a spray
wire cutters
scissors

Wash the candles sticks in a paint color of your choice, let dry
cut the garland in strands long enough to go top to bottom on the Styrofoam ball, hot glue gun garland pieces to Styrofoam ball leaving a small area open. Apply hot glue all over the lip of the candles stick and stick decorated ball and hold till glue is set. Snip individual silver balls (beads) off of spray with wire cutters and stick randomly into ball to fill up any thinning spots between garland and waaaaaaa laaaaaaa a shimmering table setting that looks expensive and can be made in under 6 dollars a piece!

And now on TO THE CUTEST PUPPY IN THE WORLD! He is still waiting for his hernia surgery, he has turned into the million dollar puppy, we had to start his series of shots all over from the beginning because we found out the breeder started his shots to early and then we he developed kennel cough there was too long of a lapse in between the shots, then he tested positive for worms (poor thing) and now he's just waiting for a 2 week break for his last shots. Because he is so small they had to break up the series of shots. But through all his ailments he's still a happy lil Pup and has taken all his meds like a champ. He had his first hair cut too, they said he was a very good boy! He even likes baths! He is sooo sweet I couldn't have gotten a better disposition pup! I just love 'MY Boo!"