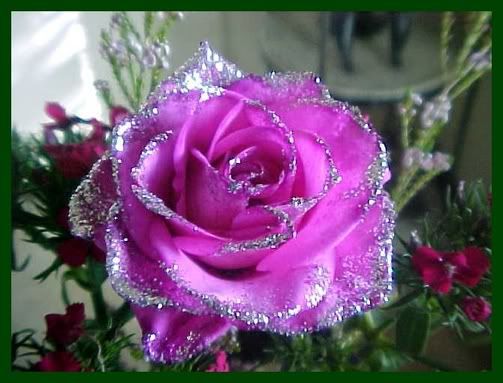 kmh 2006

I swear the older I get the better my birthday's get! When I turned 41 I finally got that pony I had been whining about for 30 years, last year on my 42nd birthday I went on a cruise with my girlfriends to Baja California (Thanks Jim) and then this year I had a whole birthday weekend! Friday night home with DH (very rare lol) and my last two lil ones, Saturday spent with friends and then Sunday (my actual birthday) was spent with more family and even more friends. Can I tell how how excited I am about what next years birthday might bring?? lol lol lol
The photo above is of one of the roses that my Middle daughter and her boyfriend gave to me, along with other "spoil me" gifts. She is the ultimate glitter girl and even the roses she gave me had to have glitter.
Thanks to all who stopped by and left birthday wishes for me, you will never know how much I appreciated your time, your comments and all your birthday wishes!