I had such a peaceful, relaxing weekend! My 2 favorite guys in the world(The DH and my lil guy) went off for the "Just da guys fishing trip" down to Reelfoot Tennessee leaving me home with just my 14 year old daughter. The Guys do this fishing trip every year along with my Brother, Brother-in-law, my Nephew along with some other really good friends Father and Son duo's. And since my Son has shown an interest and talent in using his own eye in photography I sent him fishing with his own camera, along with one for my Nephew too! So I can't wait to get the film developed and see what beauties they found on this years fishing trip.
My Sister called Wednesday afternoon and wanted to know if my Daughter wanted to spend the weekend with her and my niece......now I'm thinking home alone, by myself for 4 days? 4 WHOLE days?? Could I even dare to dream??? lol So my answer to her was, "When do ya want her?" So I spent most of the weekend by myself with just a couple of hours an afternoon out at the lake with the wives and the daughters of the "DA GUYS FISHING TEAM." What a way to spend the weekend.... NO STRESS!!! lol
Easter Morning was spent at Brunch with my Daughters, Sister, Niece and Mom. My Middle Daughter showed up with beautiful Easter Flowers for my Mom, Sister and Myself! I'm am loving having grown children now....2 weeks ago my Middle Daughter took ME out to lunch and then earlier in this past week my Oldest Daughter took ME out to lunch too and we spent the rest of the afternoon shopping! The are becoming remarkable young women and I couldn't be prouder of their accomplishments and strides in their young adult lives.
Da Guys came home early yesterday afternoon a lil tired, a lil smelly but very content with their weekend. I remember the first time my Lil Guy joined the Big Guys on his first fishing trip, he was probably 6 years old at the time and the only kid that was old enough to join the Big Guys and when he came home I was waiting at the door for him, eager to hear all about his first fishing trip and when asked if he had a great time he said, "YEAH! But I have the smelliest bunch of Uncles in the whole wild world!!!" I just giggled as a visual of the campsite scene from "Blazing Saddles" went through my head. This trip they all drove down in my Suburban together, now I'm thinking......4 grown men, 3 young boys, I know I'm gonna need to fumigate that SUV!!!! lol lol lol
The Easter Flowers from my Amanda.....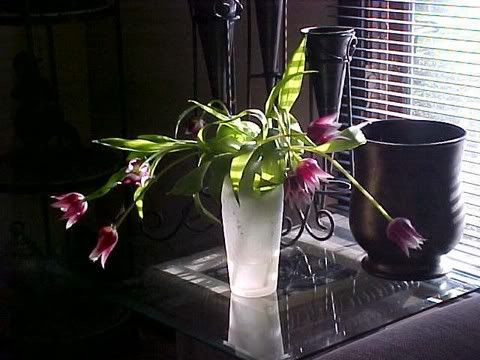 kmh 2006